About Essential Oils
Essential oils have enhanced lives for thousands of years, offering a variety of benefits from cosmetic and dietary purposes
to spiritual and religious use. Young Living has always been at the forefront of bringing this ancient tradition to modern
users, introducing millions to emotional, physical, and spiritual wellness that can be truly life-changing.

Extracted through careful steam distillation, resin tapping, and cold pressing, the purest essential oils are far more
powerful than the botanicals from which they come. Any time you hold a bottle of Young Living's powerful essential oils, you hold nature's pure essence.
For more information on becoming a member click here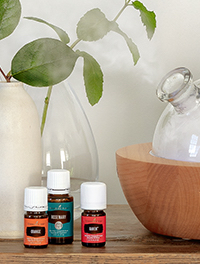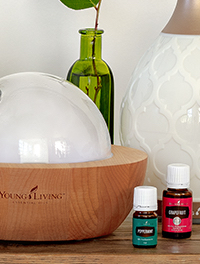 Inspire a positive emotional state
Love the way the fragrance from a fresh orange peel brightens your day? Each essential oil's complex, pleasant, and unique scent triggers emotions and memories, which can help in your search for a more fulfilling and balanced life. To help you rediscover peace, balance, and joy, use these essential oils and blends for diffusion, soothing baths, massage, inhalation, or topical application.


– Joy™ essential oil blend
– Lavender essential oil
– Orange essential oil
– Peace & Calming II®™ essential oil blend
– Peppermint essential oil
– Jasmine essential oil
To learn more about our seed to seal promise watch this video.
Plant Based Cleaner
Young Living is proud to offer a complete line of home and personal care products infused with the pleasant, spicy aroma of their proprietary Thieves® essential oil blend! These products are ideal for those wishing to replace harmful chemicals in the home with powerful, natural alternatives. Products inspired by the legend of four 15th-century French thieves who formulated a special aromatic combination they used while robbing the dead and dying, Thieves is one of Young Living's most popular products.
USES OF THIEVES HOUSEHOLD CLEANER
Toilets & Sinks
Tile, Wood & Linoleum
Carpets
Counters
Bathtubs & Shower Fixtures
Windows & Glass
Oven and Stovetops
Laundry
Stains & Spills
China & Dishes
Walls & Scuffs
Children's Toys
Vehicle Freshener
Pet Odors & Messes
Grout & Wallpaper Removal
and Much More!